As the COVID-19 pandemic continues, we are all being affected in one way or another; martial art training and martial art photography are no different. I have been able to continue shooting over the past several months, but time has been very limited. For today, we start with some pictures of breaking techniques ('destruction' in the older Tae Kwon Do terminology).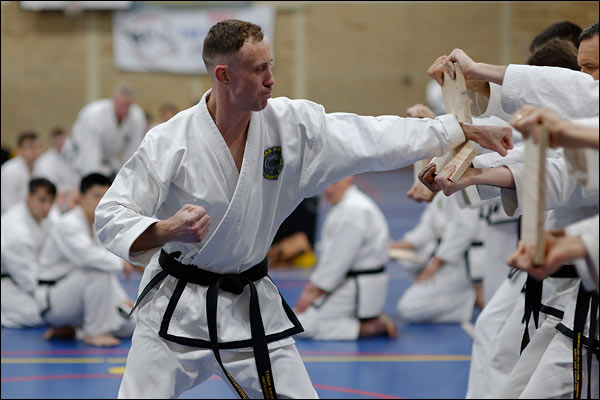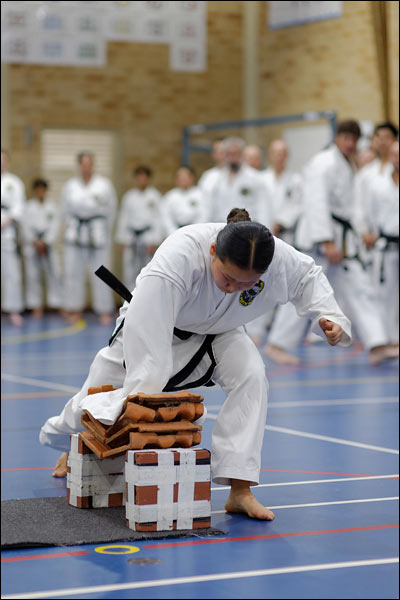 It is excellent to see more and more lady black belt members breaking tiles. This is not something for the faint-hearted or the ill-prepared, and obviously needs to be done with correct teaching and supervision, but it demonstrates what can be possible with dedicated training. The three photographs above were shot during preparations for the December 2021 grading examination.
At the grading itself, I was able to shoot a couple of pleasing images of kicking techniques. The flying side kick photograph was a touch early; one can just see the pine board beginning to break. The spinning heel kick photograph was a touch late, but not bad in terms of timing. If taken a fraction of a second earlier, the kicking leg would have been a bit straighter and the foot of the kicking leg would have been more visible. I took both of these pictures with maximal frames-per-second, but high frame rates do not guarantee perfect images by any means.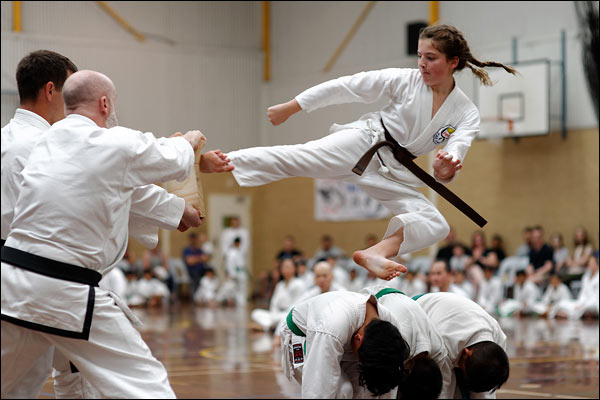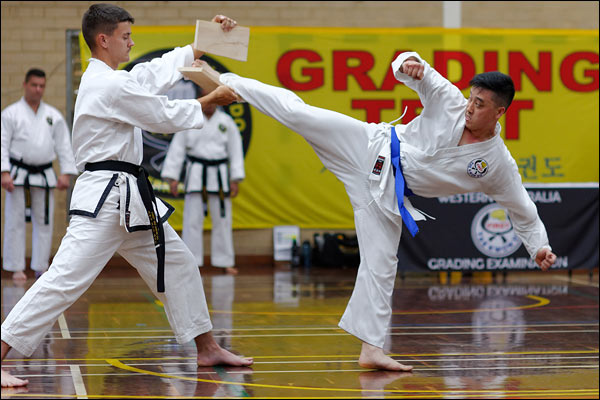 A few months later, and we are in the lead-up to the March 2022 grading examination. Prospective candidates for promotions into or within the black belt ranks need to pass preliminary tests before they enter formal candidature.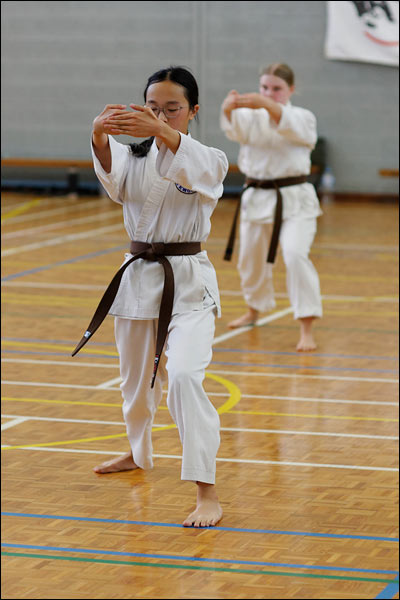 The rigorous preparation pays off at the actual event, as shown in the grading photographs below. In the first of this series, we see a crescent kick being used to push aside a punching technique in a set exercise. It is important to note that this is, indeed, a fixed sequence in that the attacked (with back facing the camera) executes a single punch and then stops.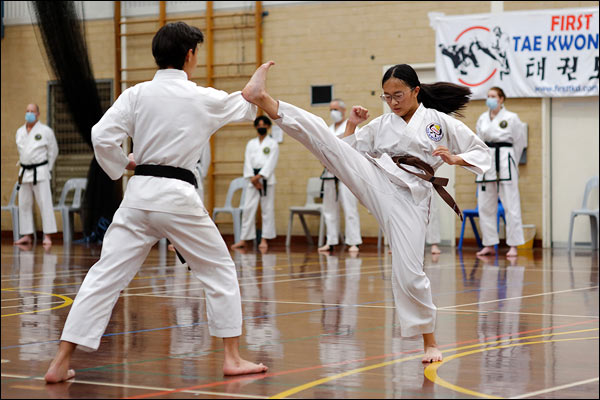 The next photograph shows a jumping front snap kick breaking technique. This is an unusual angle from which to shoot this technique, but in this case I was able to capture the candidate's face as well as the kicking foot breaking through the board.
In the third photograph, below, I was shooting against strong backlighting, clearly visible with the strong sunlight entering through the double doorway in the background. Significant underexposure, adjustments in post-processing, and of course reliance on a RAW image format meant that I could create a striking  image of the spinning heel kick despite the lighting working against me.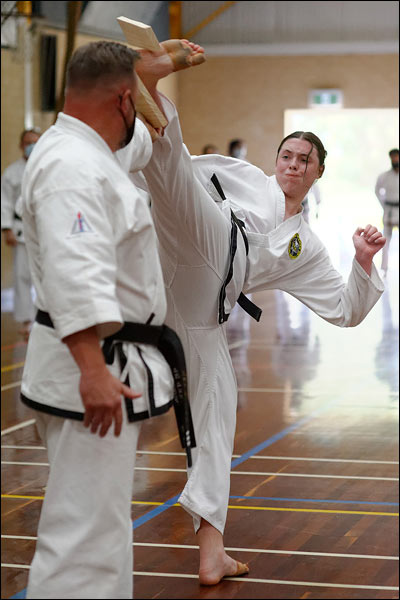 In the final two images in this series, we see the punch tile break that had been practised above, and a flying side kick break.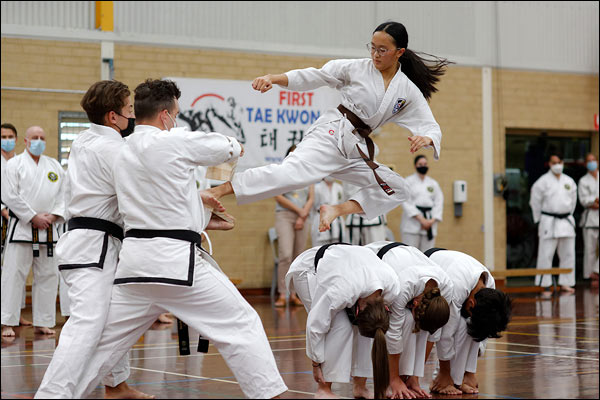 Due to public health restrictions, Master Low and Chief Instructor O'Brien were unable to travel to Western Australia for the December 2021 grading, so successful black belt candidates received their First Tae Kwon Do degree certificates in March 2022. In the picture below, Chief Instructor O'Brien presents a new 2nd Dan instructor with his certificate.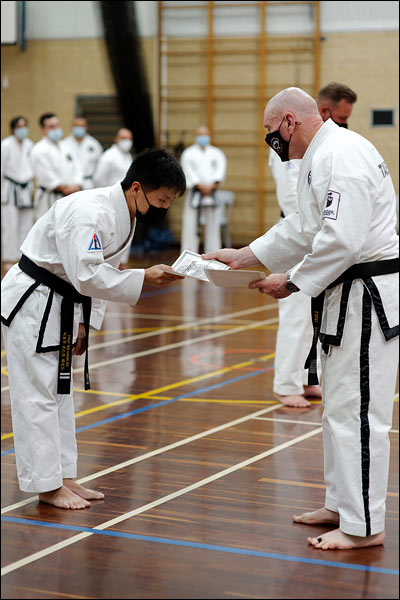 First Tae Kwon Do photographers also had the opportunity to take some pictures of the Western Australian lady instructors and black belt members, as shown below. The sky was clear and it was sunny, so there was plenty of light to work with, but it was difficult to avoid blown-out highlights on the white uniforms. This is, of course, another situation where shooting RAW format and appropriate post-processing are essential to getting the best images.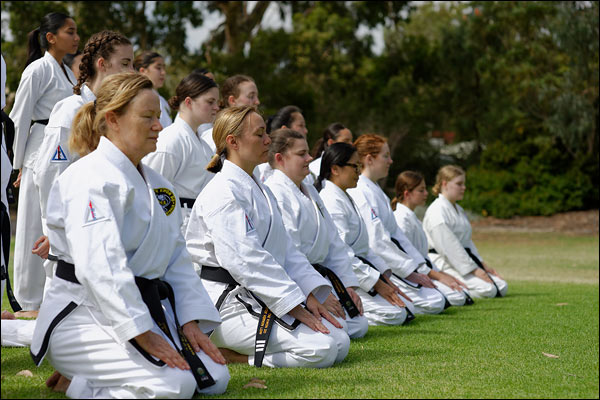 In a different venue, shooting at closer distances to the subjects, it is much easier to generate shallow depth-of-field. This is noticeable in both photographs below, but the second image shows the gradual blurring of the subjects as the eye moves from closest to farthest.
To end, we have a couple of powerful breaking techniques; a hammer-fist through four pine boards stacked together and a knife-hand strike through six roof tiles. Regrettably, the fluorescent lighting in this particular venue led to colour shifts in most of the images I shot at this event. The trained eye will immediately notice the green-purple transition, caused by the interaction between the exposure duration and the frequency of the lighting. One could probably correct this with careful post-processing, but then one has the balance the return-on-investment in terms of time and effort against the result.
First Tae Kwon Do Western Australia has many photographers in its community, and it is invaluable to capture these kinds of images for posterity. It is encouraging to see what people can accomplish with patience and perseverance in their martial art training, and in many cases, to see how they have developed over years of such training.