First Tae Kwon Do Western Australia's black belt training session in July 2022 focused on throwing techniques, which involve a simulated attack and then a defensive response including a throw to put the attacked onto the ground. Chief Instructor Dane Meade, 5th Dan, taught black belt members for the better part of two hours on a set of practical throwing techniques for self-defence situations.
In the photographs below, we see Chief Instructor Meade teaching and various instructors practising the throwing techniques.
At the same event, black belt candidates trained alongside the black belt members, and undertook some preliminary assessments ahead of their intended black belt grading examinations. The assessments included extensive sparring and breaking tests. In the first set of photographs below, we see one of the core fundamental techniques, side kick, being executed through pine boards.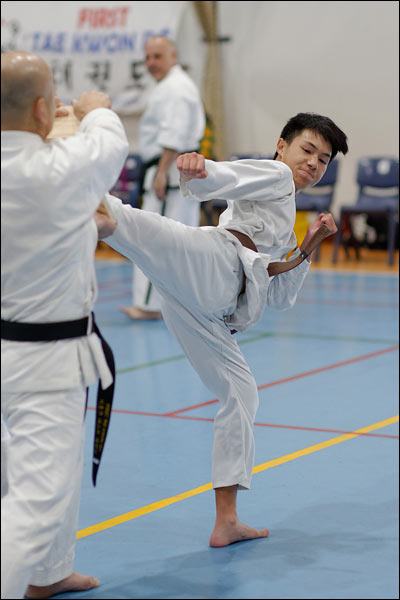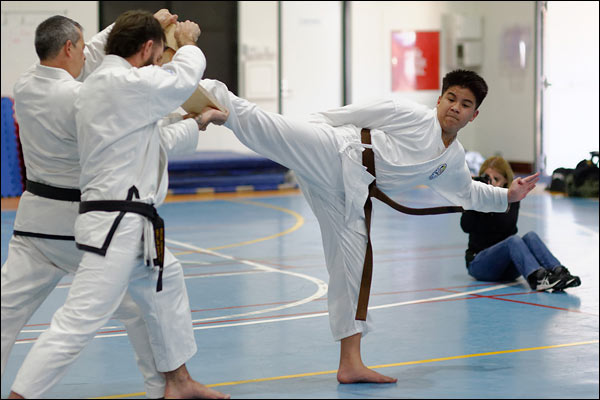 The second set of photographs shows some of the more demanding kicking techniques, including jumping kicks and spinning heel kick. We also see knife-hand strike, one of the smaller set of breaking techniques required as part of the black belt grading examination.
In the last two photographs, we see the flying side kick being executed above three people. This is one of the requirements for Junior Black Belt candidates.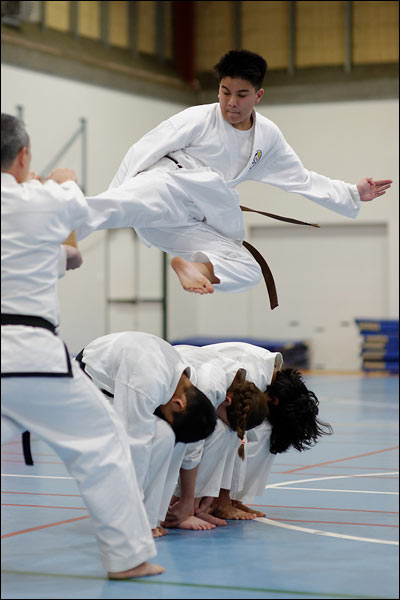 Those who were successful in passing their preliminary assessments will proceed to the actual grading examination in September under the head of the school, Master Vernon Low.